14 Aug

Networking at a cannabis event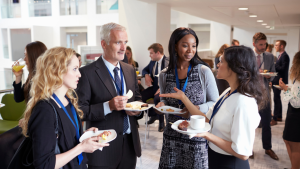 Networking is critical to building any brand or business, and cannabis events are a great place to make important contacts. Not only will it allow you to meet some great people, but you'll also be surprised by the wide range of personalities you will encounter. If you want to learn how to network at a cannabis event, you'll be pleased to find that you only need a little research and preparation.
The Power of Networking
No one can grow independently, and networking will help you build the contacts you need to get the word out about your outstanding services, brand, content, or products. Anything you want to get in front of the public will require some help to get there.
Good networking involves the sharing of information and ideas. This can be online, but getting out there and attending physical events is a great way to make yourself familiar. 
You can do networking with any creative minds. It's essential not only to get to know people that can help you but also those that can give you some great insight. These relationships will help you lay the groundwork for building a well-known brand or name.
How to Network at a Cannabis Event
If you plan to build some relationships at a cannabis event, learning strategies specifically suited to the industry is advantageous. Here's how to network at a cannabis event.
Have a Clear Strategy 
Cannabis is a huge field. Not only is there plenty to study and learn regarding its use and growth, but there are also loads of products to explore. Do research on people or companies that could help you grow your name or brand, and make sure you have a clear outline of anything you'd like to ask or share. 
Seek Out Experience 
Creating contacts with people on every level can be useful, but getting to know those with superior experience can offer you some important wisdom. Get to know people who can help you navigate the challenges of understanding cannabis.
Relax and Be Genuine
Practicing a few conversation starters is a great way to put your nerves at ease, but remember to be genuine. Confidence is attractive, and conversation will flow more easily when you seem comfortable.
Listen
It might seem like common sense, but listening is a key part of networking. Getting to know others is just as critical as sharing your own thoughts and ideas. Knowledge is crucial to success.
Take Notes
Taking notes makes it clear to others that you are actively listening. Plus, it's always wise to write down important details, names, and any other interesting information you might learn.
Make a Clear Request
When establishing a new contact, make your intentions clear. Present clear requests, such as asking for an email address and phone number. You might even be albe to schedule a meeting if the connection is good. Don't take it personally or be offended if the answer is no. Just thank them for their time and move on.
Before You Go
Networking can be intimidating, but it's important to approach it with excitement. A cannabis event is a great place to learn and get to know some incredible people. Have fun, and trust that opportunities will arise. If you're searching for your next cannabis event, visit XpoCanna to register today!